Discover how to work with
ink pens fineliners colored pencils markers
Scroll down for all available Art Classes
Enjoy this specially designed Mastering-Ink-Method which will take you beyond the places where many get stuck
Discover what the very specific techniques are to create really expressive artworks with just paper and ink
Strengthen your basic skills and take your work to the next level with advanced techniques
We'll work on topics like: sketching, light, shading, shadows, focus and more
Gain understanding of the necessary theory with very plain and understandable step-by-step video lessons
Directly apply your newly gained insights to assignments this course will walk you through
Become confident in knowing how to apply your newly acquired skills and gained understanding to your very own art pieces
Enjoy this specially designed Colored Pencils Method which will take you beyond the places where many get stuck
This a method that works with any brand of colored pencils and any paper!
Discover these easy-to-master, special techniques I created for you
Gain a whole new perspective on the way you color!
We'll work on topics like: the basics, blending, gradients, depth, quick light and shadows, and more
Gain understanding of the necessary theory with very plain and understandable step-by-step video lessons
Directly apply your newly gained insights to assignments this course will walk you through
17 video lessons
almost 9 hours of video material
20-30 hours from start to finish when watching all the videos and doing all the assignments
clear examples, instructions, demos and assignments
4 fully commented demo videos
3 pdf books with notes, examples, assignments and answers
more then 160 pages of study material
printable assignment sheets, if you can draw, great, if you can't draw, no problem
suitable for beginners and intermediate artists
Are you ready to unlock your capacity to do amazing Quick Sketches?
Capture what you observe quickly

So you can still draw something convincing without it having to take hours from your precious time

Discover this very special Quick Sketch Method which is easy to adopt, yet easy to adapt to your own style, wishes and liking

Use this method to create stylized, yet charming drawings

Create lovely background fillers in no time

If you're a beginner you can certainly use these newly acquired skills as a stepping stone. This will help you overcome the intimidation to take on the next level of more detailed drawings. Once you master this method, you'll face that challenge with confidence
Gain a whole new perspective on the way you work!
This link will bring you to Udemy where this Art Class is available only at the moment
Discover how to become successful in drawing detailed flowers and rocks in their full glory. My method is based upon 3 distinguished steps:
Capture the complicated flower or rocks in the simplicity of its basic shape

Focus on the RIGHT details and master translating these to your drawing

Finish it with convincing shading (done in an relative easy way)
In this Art Class you will discover the key to a transformation of your thinking pattern in where to start and where to end. You will find a new revolutionizing workflow as your eye & brain are trained to make the right choices along the way. You will discover the progression of building beauty enhancing detail upon detail. Ending up with amazing results!
Of course you will also be given the necessary tools to:
train your muscle memory in drawing the right shapes

develop simple construction drawings as your springboard to freehand drawing

give compositions your own personal touch
With my method you will become successful in drawing detailed flowers or rocks in their full glory!
This link will bring you to Udemy where this Art Class is available only at the moment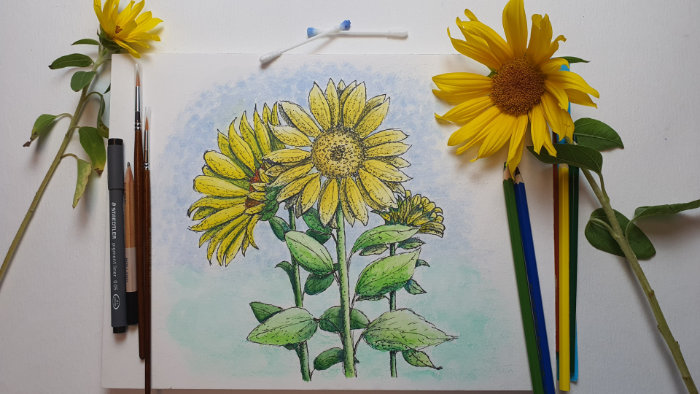 Don't Sunflowers just bring a big smile on your face too? Once you discover how much you will take away from this 'Sunflower Fun' Art Class, your smile will even get bigger…!
If you ever wanted to learn how to draw a flower effectively and turn it into a beautiful painted illustration, this is the perfect class for you. Discovering how to use wonderful and timesaving techniques, turns this Art Class into a real treat!
In this lovely project I will take you through a variety of different skills. Through combining easy-to-understand techniques, you will find yourself growing along the way. Step-by-step you will be working on all of these aspects:
True sketching, picking the best composition, constructing techniques, using the fine-liner for outlining and all the enhancing effects, watercolor-pencil-techniques and how to bring light & shadow into your illustration.
Things that might look somewhat complicated or hard to accomplish, will come within your reach. The new insights and understanding you will gain, make all the difference.
So I invite you to come along and amaze yourself at what you are able to do!
This link will bring you to Skillshare where this Art Class is available only at the moment. If you don't have a Skillshare subscription yet, you can sign up through the link and go right into the class too. Signing up gives you 2 weeks of premium Skillshare for free. Don't want a paid subscription after the two weeks? Cancel within the 2 weeks and you won't be charged anything after the 2 free weeks. For signing up you need a credit card (or debit card, some kind of prepaid credit card).